Home
:: Vacanze in Veneto

Holidays in Veneto

-

PROPOSED

ROUTES

TO VENETO


The Veneto is known worldwide for its wonderful holiday in the cities of Venice and the Venetian lagoon to Burano, Murano and Torcello, Padua, Verona, Treviso, Chioggia, Asolo, to the walled cities such as Citadel and Montagnana, the Riviera del Brenta enriched by the splendid Venetian Villas, to the seaside resorts (Jesolo, Caorle, Bibione, Submarine, ...); to the magnificent Dolomites, to the lakes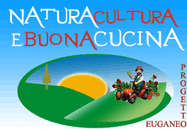 (those at high altitude at Lake Garda shared with Lombardy and Trentino), and for wellness spa towns of Abano, Montegrotto,... set among the wonders of Padova, Venezia, Rovigo and Vicenza, the area Euganean offers visitors the opportunity to appreciate the natural and architectural wonders of the Veneto. Tourism Euganean Hills is made of pure nature, sport and outdoor occasions. From climbing the Rocca Pendice the numerous bike paths and hiking, the lakes for fishing, the boat trips.

Padova and surroundings.
Proposal to discover the beauty of the ancient city of Padua and some neighboring cities with unique characteristics: the villas of the Riviera del Brenta, Piazzola sul Brenta, Cittadella typical medieval village.

Euganei Hills.
Besides the natural beauty of the hills also offer significant opportunities for cultural tourism which the town of Arqua Petrarca, the villa Barbarigo and the castle Catajo. But also opportunities to visit monuments, abbeys, etc. ...

Medieval towns.
Some paths in Montagnana, Monselice and Este, cities with strong features in the medieval city walls.

Ground-water route.
Excursions by boat to explore the different cities of Padua, the Brenta Riviera, the Riviera dei Colli as well as other routes proposed by the major shipping companies.

Vicenza and surrounding areas.
Proposal for a small piece of territory of Vicenza find: Vicenza, Bassano del Grappa, Marostica the mythical village and other places.

Discover Palladio and Canova.
Route in the province of Treviso, which leads us to meet the famous architect Andrea Palladio and sculptor Antonio Canova in some of their creations, starting from Castelfranco Veneto to Possagno up his eternal abode.

The romantic Venice.
See Venice is a unique opportunity. Both the proximity and favorable for rail links that lead the visitor directly into the magical atmosphere of Venice.