Home >> Holiday Home - Apartments in Euganean Hills
Holiday Home - Apartments in Euganean Hills
Do you want to spend your holidays in Veneto and in the Euganean Hills and , for this reason , look for accommodation? Are you looking for a Holiday Home or Apartments in the Euganean Hills ? Find and book accommodation desired : the owners of the Euganean Hills will be pleased to welcome you.
Residence AI CELTIS + WEBSITE + DETAILS
Via Fontane 42 - Montemerlo di CERVARESE S.CROCE - Padova
Cell. +39 349 1970832
All of this make ai Celtis Residence an exclusive and elegant place where natural and historical beauties meet the idea of intelligent holidays but also deep relaxation. The flats are all ...
La Corte dei Sisanda + WEBSITE + DETAILS
Via Pianzio,12 GALZIGNANO TERME - Padova
Tel. +39 049 9131167 Cell. +39 333 9564474
The old mansion is used as a holiday home and apartments. 4 apartments all with kitchen and bathroom but with different hospitality ranging from 2 to 10 people...
Casa Pisani + WEBSITE + DETAILS
Via Ronchi, 6 Vanzo - S. PIETRO VIMINARIO - (PD) Tel.e Fax +39 0429719206 Cell. +39.3484126615
Old country house of the 17th century, recently restored, composed of 2 units each with 3 bedrooms, bathrooms, cot, living room, fireplace.
Appartamento La Moschina + WEBSITE + DETAILS
Via E. Fermi, 9 - TEOLO - Padova
Tel.+39 328.9376921
Detached house on two floors: ground floor with living room, kitchen, bathroom 2 doubles; over large loft with 2 beds and bathroom . Swimming pool with sun loungers and parasols, ...
Agriturismo Il Castagneto + WEBSITE + DETAILS
Via Bagnara Alta, 1537 - VO' EUGANEO - (PD)
Tel e Fax: +39.049.9940810 Cell: +39.328.7446905
The farm is located in an open position and panoramic. Hospitability in 2 apartments with own bathroom and kitchenette and air conditioning. Tasting and selling their products

Casa Francesca + SITO WEB
Via Veneto - SELVAZZANO DENTRO - Padova
Tel.+39 347.1249433
Located in the beautiful setting of the Euganean Hills it is suitable for families up to 4 people . Opportunity of relaxing : nature , golf , spas , art cities Padua , Venice, Verona, ...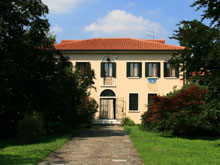 Casa Ciriani + WEBSITE + DETAILS
Via Guazzi 6 ABANO TERME - Padova
Tel. +39.328.3779435
3 double rooms and one apartment with bed and breakfast, in the name of family care and kindness Veneto, surrounded by lush green gardens and well kept, full of vegetation.