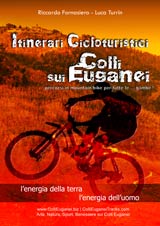 For those wishing to receive details of the altitude and location, as well as other proposed courses, write an email to: info@collieuganei.biz. You will receive a large jpg format and route descriptions. For those wishing to submit new routes or variations to those proposed, we would be happy to publish them!
Order your copy of the road book ...>>
"Cycling routes on EUGANEAN" R. Fornasiero e L. Turrin.
8 routes Hills of difficulty and three different distances. Road book spiral bound, perfect for mountain biking. Limited edition.
The print is ready. Order your copy. We will send it home.