Home >> I Colli Euganei
Welcome in the hills Hills :: Enjoy your holiday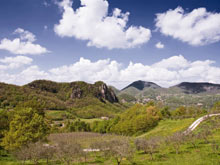 Situated just a few kilometers south-west of Padua, the Euganean Hills are a group of volcanic hills that rise, almost like an archipelago, the Po-Venetian plain. A territory rich in NATURE, HISTORY, FOOD, HEALTH that will make your holiday the reason to come back to discover this beautiful area..
Euganean Hills you can enjoy every sport, in an area protected by the Regional Park: mountain bike trails on the trails, climbing, Nordic walking, horse riding, ...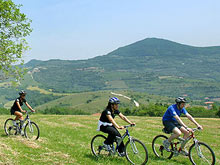 The beauty of the Euganean Hills has inspired important writers, poets and artists, that in the time we have left works of inestimable value. Petrarca and Foscolo to name a few.
Castles, Venetian villas, abbeys and medieval villages are still visible to the guests, set Trai vineyards and olive groves that every year we produce excellent wine and excellent olive oil. The many wineries offer the chance to taste high-quality products, now recognized worldwide
And then, let yourself be lulled by the pleasure of beneficial TERME: the hot spas and treatments of our properties will allow you to enjoy the relaxation in a land of a thousand holiday opportunities.

Some events on EUGANEAN in PADuA
From: 11/08/2017 To: 20/08/2017
FESTA DEL VILLEGGIANTE - TEOLO

In Piazza Perlasca (tutti i giorni) Serate con gastronomia, spettacoli, musica e ballo. INFO: 049.9900436
From: 11/08/2017 To: 20/08/2017
SAGRA DELL'ASSUNTA - PADOVA - loc. Salboro

Festa patronale con tutte le sere ballo liscio e pesce fritto e stand gastronomico con tutte le prelibatezze culinarie della nostra cucina. (fine settimana V/S/D e L 14 e M 15) INFO: 348.7148060
From: 11/08/2017 To: 21/08/2017
ANTICA SAGRA DI RONCAJETTE - PONTE SAN NICOLO'

In località Roncajette presso parrocchia S.Fidenzio tradizionale sagra con stand gastronomico e animazione.
From: 11/08/2017 To: 20/08/2017
ANTICA SAGRA DI SAN ROCCO - LOREGGIA

l'Antica sagra di San Rocco, si svolge nel prato di Villa Wollemborg con il famosissimo stand gastronomico, spettacoli, musica, luna park, mostre e tanto altro ancora.(CONTINUATIVA) L'11 cena di gala su prenotazione. INFO: 335.7550859
From: 18/08/2017 To: 27/08/2017
SAGRA DEI BIGOLI - ABANO TERME - loc. Monterosso

Dal 1972 la manifestazione è diventata famosa per i bigoli al torcio, fatti al momento e conditi in varie salse. I bigoli di Monterosso, o bigoli ruspiosi, a differenza di quelli tradizionali, sono più corti, grossi e ruvidi e con un tempo di cottura diverso!!! dal 18 al 27 agosto (V/S/D e G/V/S/D) INFO: 049.8669447
CARNIVAL OF VENICE 2017 - dal 11/2 al 28/2.
La stagion del carnoval tutto il mondo fa cambiar. Chi sta bene e chi sta male Carneval fa rallegrar. Qua la moglie e la' il marito, ognuno corre a qualche invito, chi a giocare e chi a ballar. (Carlo Goldoni)
SEE THE PROGRAMM - WEBCAM ON ST.MARK'S SQUARE
FIRST SUNDAY OF THE MONTH FREE ENTRY IN MUSEUMS STATE: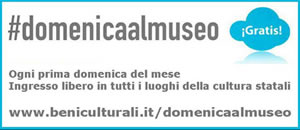 - in ESTE (PD) - NATIONAL MUSEUM ATESTINO
- in STRA (VE) - NATIONAL MUSEUM OF VILLA PISANI
- to VENICE :
-GALLERIA "G.FRANCHETTI" ALLA CA' D'ORO
-GALLERIE DELL' ACCADEMIA
-MUSEO D' ARTE ORIENTALE
-MUSEO DI PALAZZO GRIMANI
-MUSEO ARCHEOLOGICO DI VENEZIA
-SALE DELLA BIBLIOTECA MARCIANA.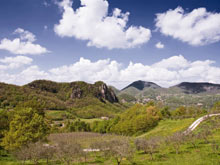 The basin of the Euganean Hills offers everything for tourists seeking a holiday full, healthy, in relaxing places and with many opportunities. Accommodations refurbished and renowned farmhouses, B & B, apartments, hotels and hotel spas..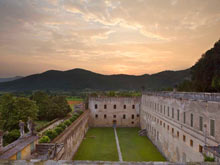 Culture & Itineraries + DETAILS
Set among the wonders of Padua, Venice, Verona, Vicenza and Treviso, the Euganean area offers visitors the opportunity to appreciate the natural and architectural wonders of Venice. A wealth of knowledge..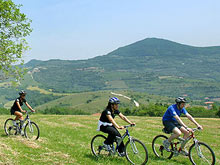 Sports & Environment+ DETAILS
Tourism Euganean Hills is made of NATURE, sport and outdoor occasions. From rock-climbing Rock Pendice, to the numerous bike paths and hiking, the lakes for sport fishing, boat excursiion..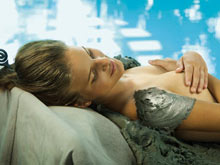 Memorable is the relief of a moment dedicated to themselves. The spa area is one of the most famous in Europe, offers a wide range of wellness treatments and new generation. To physical, never say no. Paradise Spa..